A friend of mine in Vietnam invited me to his house for a farewell party to see me off to America, Vietnamese people are very affectionate and also love to party.
My friend is a small business owner who collects fine art furniture that suits my taste. This was the second time I had been to his house and there was a statue he had recently purchased that amazed me with it's craftsmanship and artistry.
It was a statue of an eagle spreading it's wings. Wow, that was the first word I said. The wooden figure was made from solid wood. Not discussing the value of the statue, we discussed the elaborateness of the carving each detailed line, but know that the craftsmanship is unique and extravagant.
Speaking about about eagles, Eagles are large birds. The Eagle is a fierce, carnivorous bird. Unlike many other birds, eagles have specific living habits. Eagles never hunt at low altitudes and never eat rotten meat. The Eagle lives on the upper floors, the some of the most difficult and precarious places. The bravery of the Eagle is to fight and win.
Eagles are never ready to eat. It fights to the end. Playing on the high floor with its sharp eyes, the Eagle detects its prey and plunges straight down at breakneck speed. 
I asked him, "When did you buy this statue" his reply made me say Wow for the second time. He said, "Do you remember when you gave me a Soaring Eagle Puzzle Box?"  I said Yes, I remember. He proceed to tell me that from the first time he saw it, he was impressed with the craftsmanship and that even with such a small area, I  was able to showcase the might of this bird.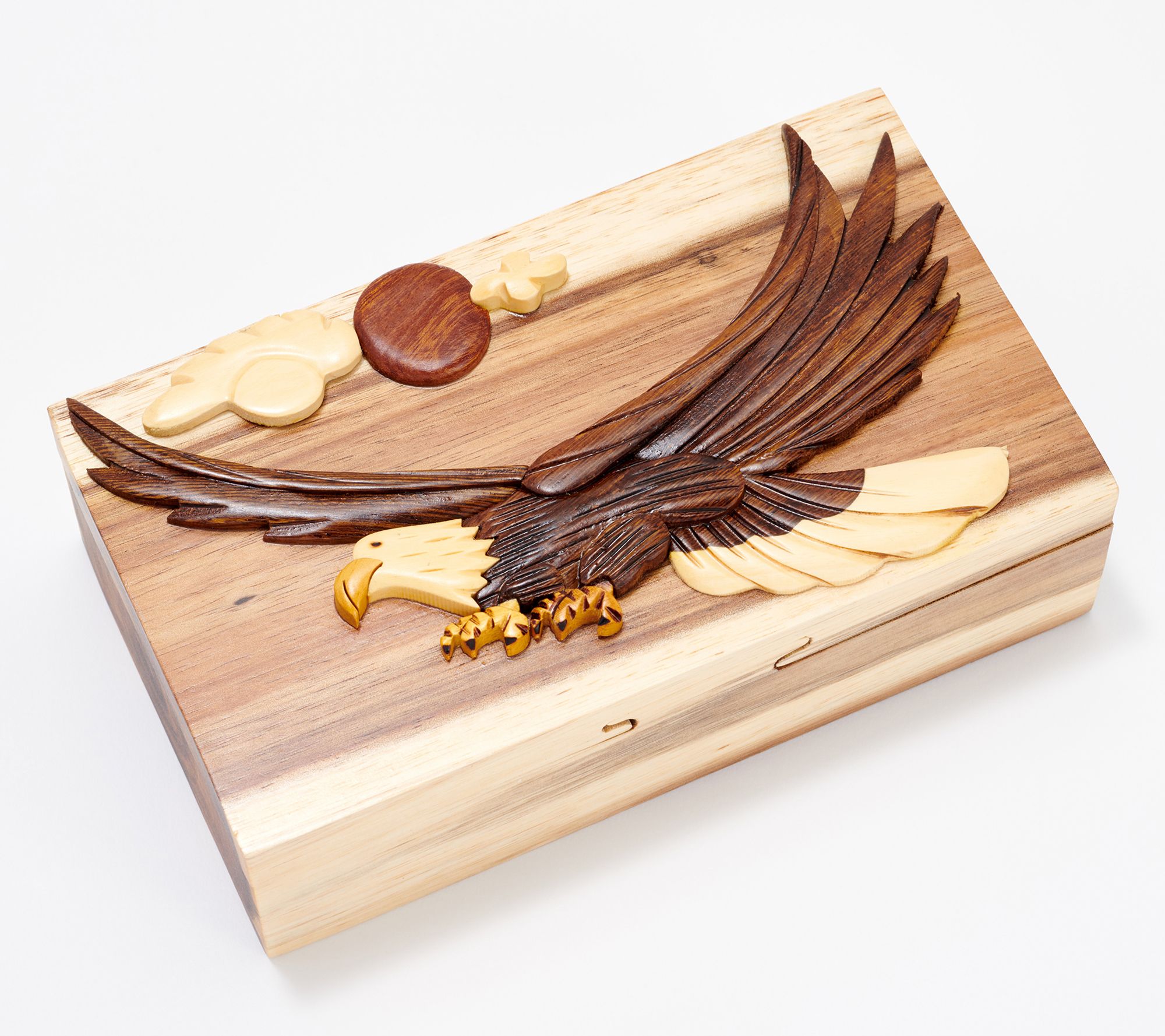 He also added,  that making a large statue has the same difficulty as making small handcrafted art, the difficulty is no less. Since it is a small item, the artist must observe more; he or she carves every little detail such as the beak, eyes, and tail. He placed my box next to his eagle statue. We then gathered around the bust and enjoyed the rest of our evening together.
I am an American citizen, and eagles are symbolic to me, but I am pleased that Vietnamese people also like eagles. It is an honor for me. American Eagles or Eagles are made in Vietnam, showing wild birds' heroic, indomitable power.
Ever since I posted the
Soaring Eagle
for sale on the website, customers in America have loved it. They say, "The wood is beautiful, and the details are outstanding."
Because the Eagle is a mighty and majestic bird, you may consider giving Eagle boxes to your father, teachers, coaches or to honor a special occasion such as father's day, a birthday or military accomplishments. Through the box, you can show that they are using their 'wings' to protect you.